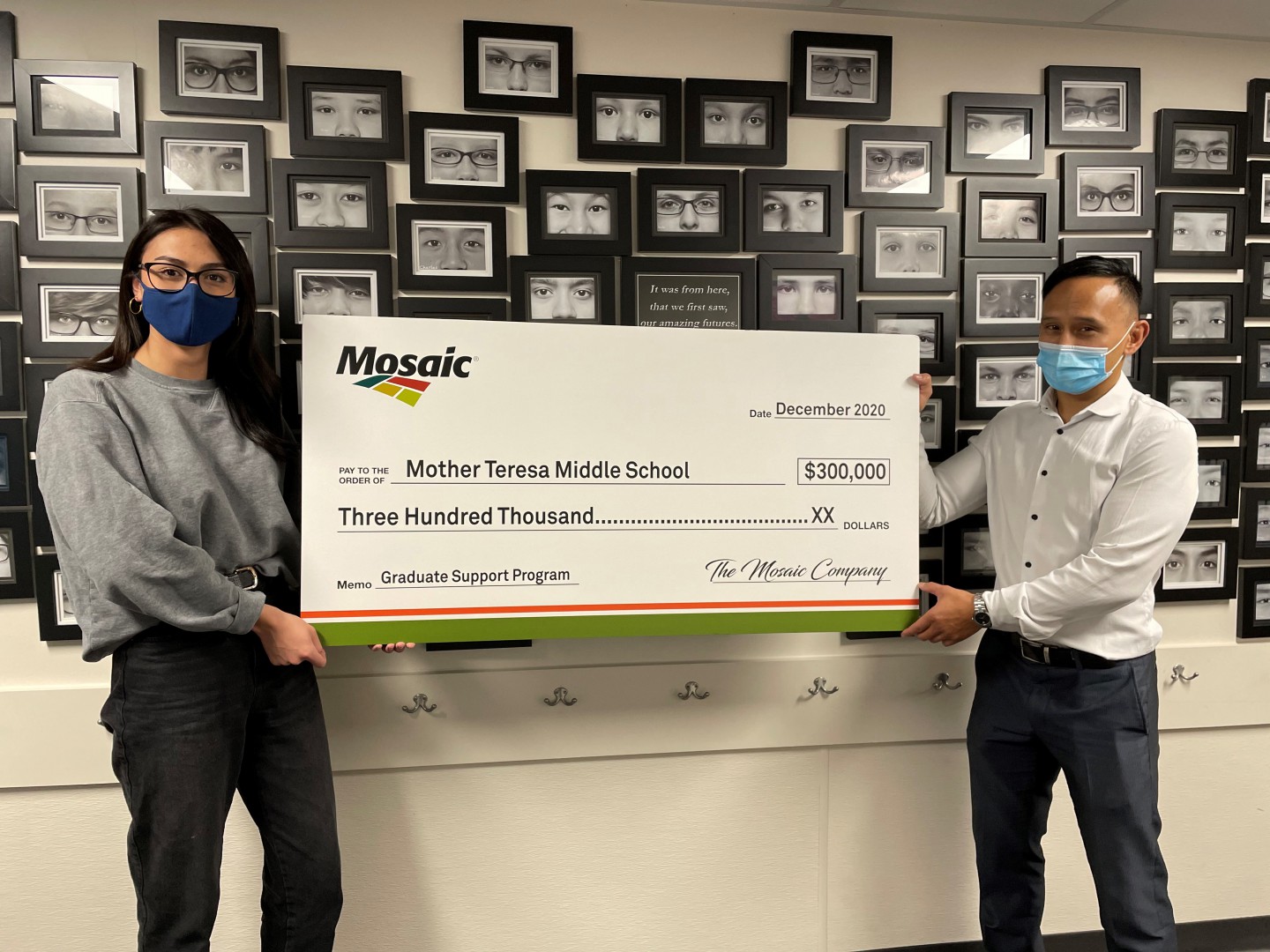 Mosaic Announces Further Funding to Support Students of Regina's Mother Teresa Middle School
January 21, 2021
Mother Teresa Middle School (MTMS) opened their doors in 2011 to Indigenous students and students from low-income families in Regina, SK, in grades 6-8. Their innovative education model aims to break the cycle of poverty by providing a comprehensive and unique learning experience to prepare students for high school, post-secondary and beyond.
At Mosaic, we help build stronger communities where we operate by supporting organizations that are making a difference. We are a long-time partner of MTMS, providing support through the Graduate Support Program to improve school performance and graduation rates.
"Four years ago, Mosaic entered a $1 million social impact bond with MTMS and the provincial government. It helped over 80% of students complete their high-school education on-time," said Sarah Fedorchuk, Mosaic's Vice President Government and Public Affairs – North America. "We are excited to announce further funding of $300,000 to the Graduate Support Program over the next two years, that will help support future MTMS graduates further their education."
The Graduate Support Program offers students who have graduated from MTMS hands-on support to ensure students' fundamental needs are met. The programming includes academic and financial coaching, mentorship, and addressing family needs outside the school for the graduates while attending high school.
"The Mosaic Company is committed to helping communities thrive. In our case, they equip and empower students to use their academic learning as a springboard for social and economic growth," said Mira Trebilcock, MTMS Director of Development. "When students transition from MTMS into high school, the "Wall of Eyes" (pictured above) reminds them that, 'It was from here, that they first saw amazing futures for themselves'."
Learn more about Mother Teresa Middle School here.
Image: Danielle (L), grade 12 student at Luther College High School, and Mr. Ron Gonzales (R), Graduate Support Director at Mother Teresa Middle School (MTMS), accept a cheque from The Mosaic Company in the amount of $300,000.