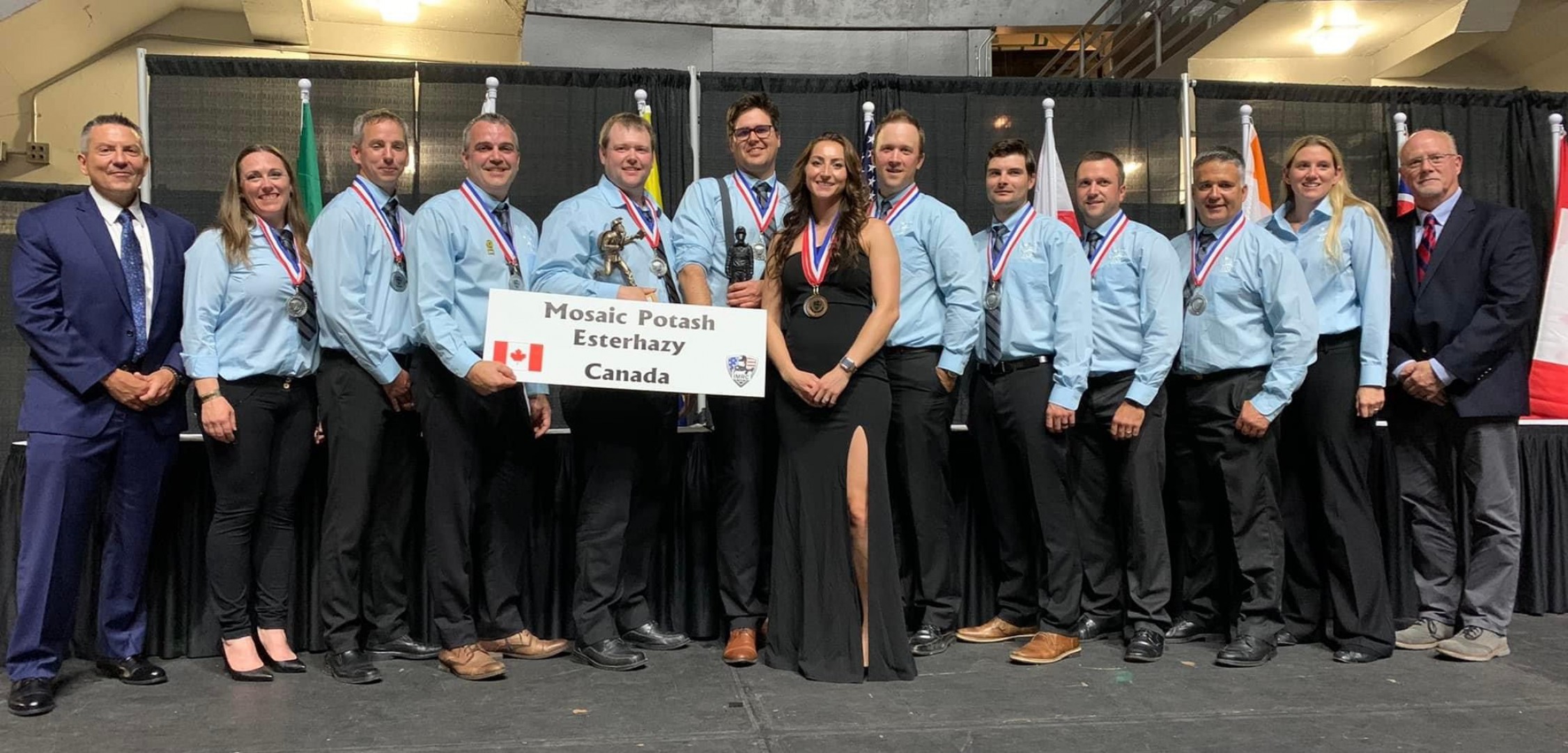 Esterhazy Emergency Response Team Shows Off Skills at International Mines Rescue Competition
October 13, 2022
It's no secret that Mosaic's Emergency Response Teams rock. While they hope their skills are never needed, they train and prepare for all contingencies.
With bragging rights on the line, Esterhazy's ERT recently traveled to West Virginia to participate in the National Mine Health and Safety Academy's International Mines Rescue Competition.
Originally scheduled for 2020 but postponed due to the pandemic, the friendly competition was a great opportunity for Mosaic's team to show off their skills against 21 other teams from Australia, India, Zambia and other countries around the world. Teams participated in events including mine emergency simulation, high-angle rope rescue, fire fighting and first aid.
Esterhazy's ERT posted an excellent result, placing second overall and second in First Aid. Team member Clint Hollingshead, K3 Surface/Shaft Superintendent, won the Technician event.
Diamonds in the Rough
This year, Esterhazy's own K3 Mine Operator Justine Fuchs was also selected to represent Mosaic on the prestigious all-female Diamonds in the Rough team. A Saskatchewan-based non-profit, Diamonds in the Rough is dedicated to empowering future generations of miners by increasing diversity and inclusion within the industry. Justine was just one of eight selected to participate on this year's team - which placed sixth overall, second in Rope Rescue and third in Theory.
"It was an honor to participate in the competition with my Diamonds in the Rough teammates, and I'm proud of our performance," said Justine. "I hope that what we accomplished proves to women and girls across Canada and North America that there's a place for them in this industry."
ERTs: Prepared and Ready to Respond
"Both teams showed exceptional knowledge and skills - we're proud of the Esterhazy ERT's performance and of Justine's participation in Diamonds in the Rough," said Kelly Strong, Vice President, Mining - North America, who visited the competition to cheer on the team. "We're grateful to have these dedicated professionals at Esterhazy and others at Mosaic facilities across North America who are prepared and ready to respond to potential emergency situations."
At Mosaic, the safety of our people is our highest priority. Emergency response and rescue competitions highlight the preparedness of our dedicated emergency response personnel and also our commitment to maintaining a safe environment at all of our facilities.