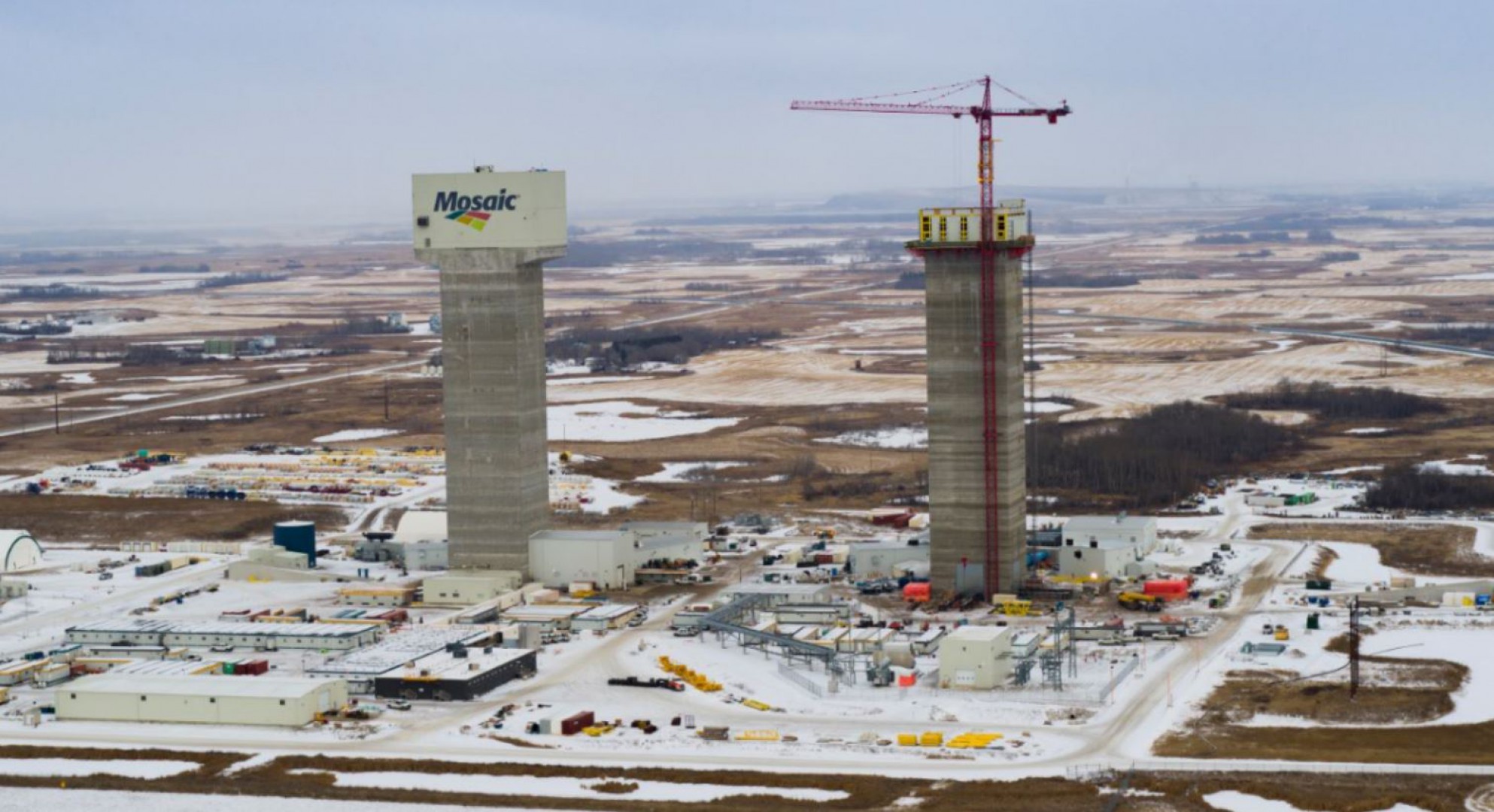 Esterhazy Transition Ends the Year On-Track, as a Fully-Operational K3 Nears with Just over a Year to Go
December 2, 2020
South Shaft Headframe Adds Penthouse and Readies for Massive Hoist Installation
Over the summer months, the K3 team and our contract partners completed a continuous concrete slip-form pour to build an over 300-foot tall south headframe. The new structure stands over the second production shaft at K3 that will solely move rich potash ore, while its sister north shaft includes transport time for people and materials.
Through the fall, work continued to add a roof penthouse, internal stairways, wall covers and a permanent 65-ton overhead bridge crane for servicing the Koepe hoist. It will take an incredible 2,000 tons of steel to build the massive steel floors required to support the Koepe hoist and auxiliary equipment to move 60-ton skips capable of hoisting millions of tons ore per year. Once assembled at ground level, the main floors will be raised into the final position using a hydraulic jacking system. When the south shaft headframe is fully operational in Q1 2022, it will double hoisting capacity at K3.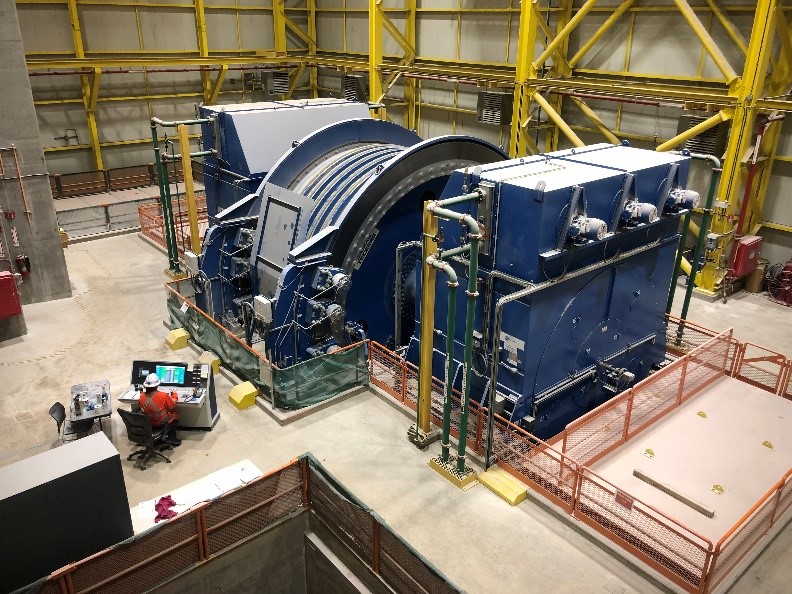 The work underway is preparing the south headframe to house a Koepe hoist similar to the one shown here in the north headframe
Major Progress Continues Underground
A kilometer underground, work continues on the south surge and coarse ore bins and on the mainline conveyor systems – all necessary components to ramp up production.
The miner assembly team is readying its sixth 4-rotor mining machine to join our K3 fleet. It is poised to start cutting in January. Every new miner that comes online increases production capacity at K3. We expect to add one more mining machine to the ranks in April, then build three more to be deployed when the south shaft head frame starts operating.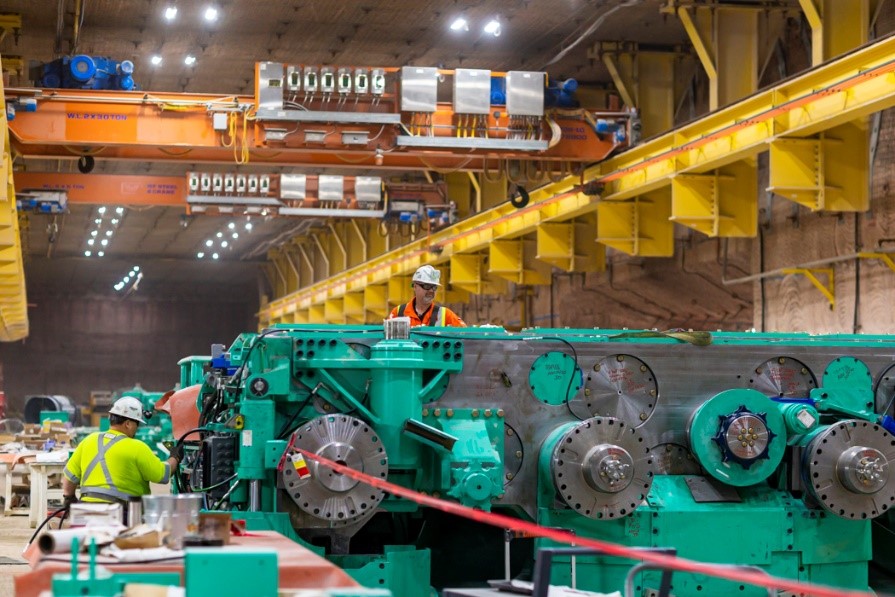 Miner assembly team working on the sixth 4-rotor mining machine preparing it for commissioning
All these new mining machines have the ability to run autonomously, cutting below while being controlled from above. The team is working towards automating the ore flow process from mining machines to conveyors to bins and up to surface and over to the overland conveyors on route to the K1 and K2 mills. These activities will be monitored from a state-of-the-art Integrated Operations Center (IOC). These efforts are part of Mosaic's plans to revolutionize our business by adding 'NextGEN' technology.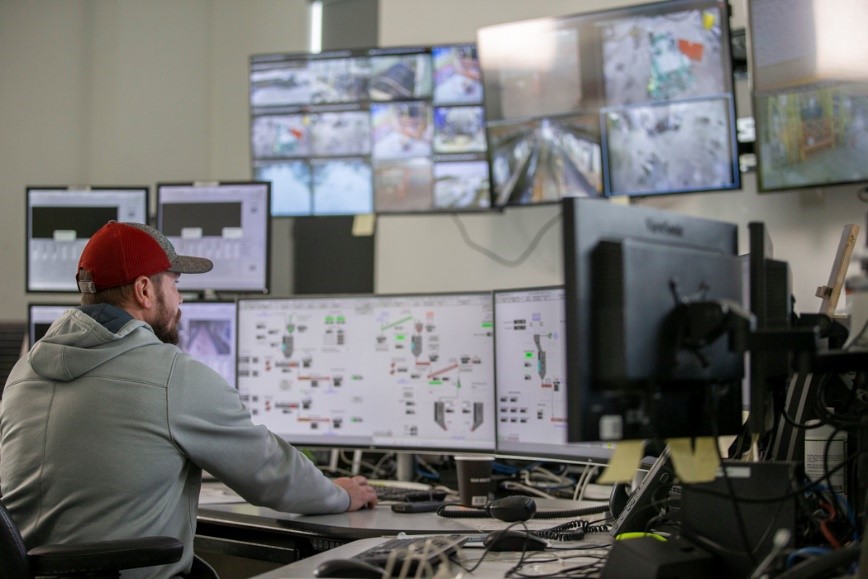 Views from the temporary 'Integrated Operations Center' at K3
Production Winds Down at K1
In October, K3 set a new daily tonnage record. We are now consistently hoisting between 20 and 30 thousand tons per day and expect more records to be set – and broke – as we near 2022.
As ore starts to flow progressively out of K3, we continue to transition the rest of the Esterhazy footprint to shift underground mining at K1 and K2 over to K3.
Underground at K1, our teams are winding down production to close off the year. Ending primary mining at our eldest Saskatchewan potash site signifies that we have met another key transition milestone on our years' long journey. K1 underground employees will continue to move into other roles as we head into 2021.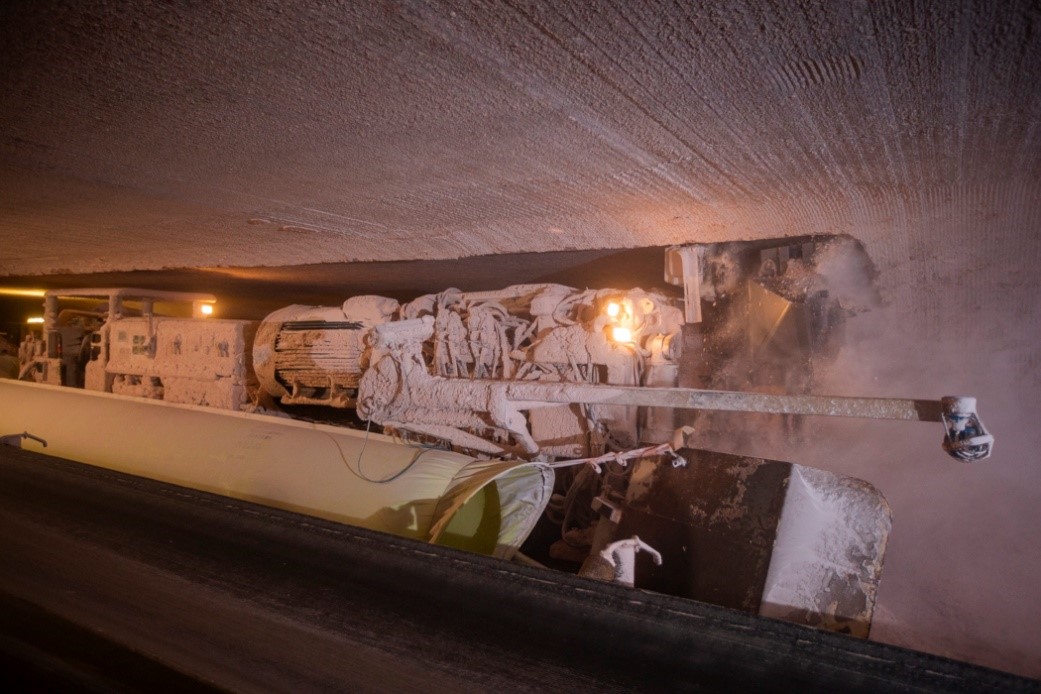 One of the few remaining mining machines cutting at K1
Safety Always the Top Priority
With a project of this magnitude and duration, safety is always top of mind. Thousands of contractors and Mosaic employees have worked on different aspects of the project. At Mosaic, the safety of all people at our facilities means everything to us.
The training needed to ensure each person across the project goes home safe at the end of the day is a challenge that we have embraced. To date, over ten million-person hours and counting are contributed to the project.
Safety will continue to be our number one priority as we enter the home-stretch on a decade-long project to build the world's largest and most competitive potash mine.