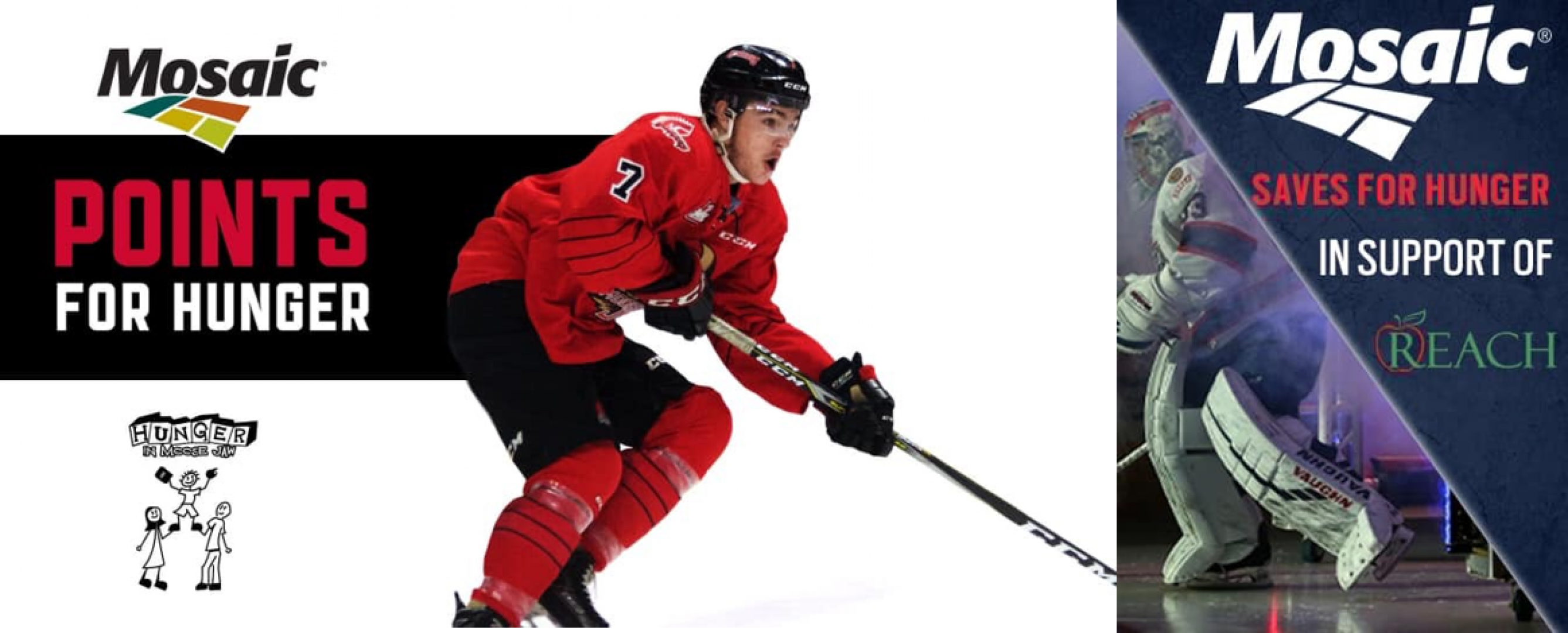 Feeding Hunger in our Communities through Hockey
February 28, 2020
At Mosaic, we know that to help the world grow the food it needs, we need to start in our backyard. That's why we have partnered with two Saskatchewan Western Hockey League (WHL) teams to help those who are most vulnerable in the communities where we operate. Through the Moose Jaw Warriors and the Regina Pats, we have raised over $250,000 towards hunger relief programs in our province.
Moose Jaw Warriors
Along with the Moose Jaw Warriors, we are excited to continue their partnership with the "Points for Hunger" campaign in support of Hunger In Moose Jaw. Throughout the 2019 – 2020 regular season, for every point that Warriors forward Ryder Korczak gets, home and away, Mosaic will donate $250 to Hunger In Moose Jaw.
"I'm excited and honoured to be involved with this year's "Points for Hunger" campaign. Knowing that students miss out on something as simple as lunch is heartbreaking," said Warrior Ryder Korczak. "Not only am I going to do my best to try and raise money for the program, but I think it's just as important to bring awareness to Hunger in Moose Jaw and everything they do to help students in our city."
After the 2019-2020 season, a total of $16,750 has been raised.
Regina Pats
For every save made by Regina Pats' goalies in the 19-20 season, Mosaic will donate $25 to REACH. In the first year of the program in 2017-18, Pats goaltenders made 2,017 saves resulting in a donation of $50,425 from Mosaic. In 2018-19, Pats goalies made 2,022 saves for a total donation of $50,550. REACH provides a hand up not a hand out by supporting at risk families to provide healthy food for their children. In addition, REACH helps Seniors to stay in their homes by providing healthy food to the door and teaches at risk children and families the skills to eat healthy.
A total of $47,100 has been raised after the 2019-2020 season.