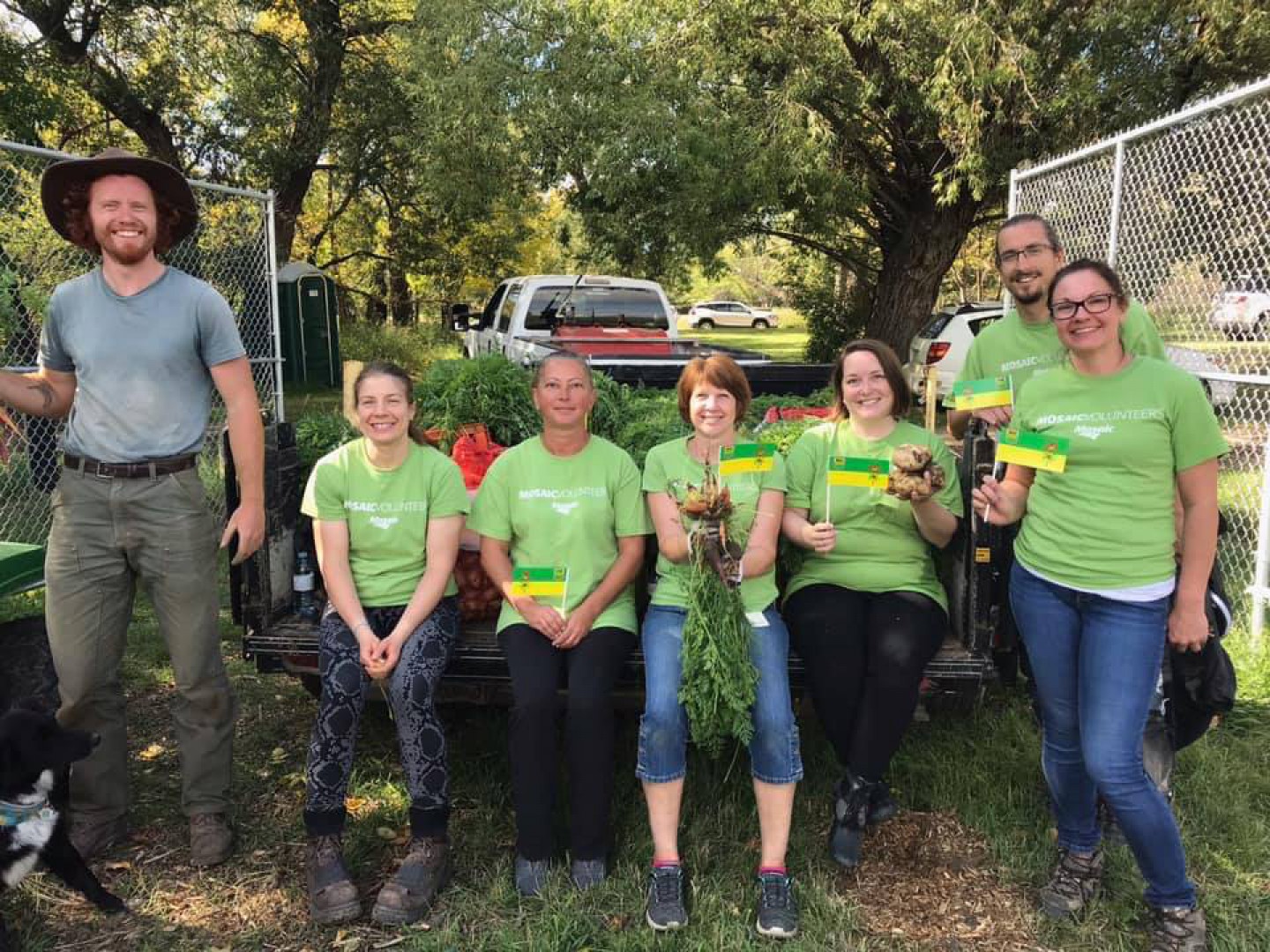 Mosaic Community Food Farm/Orchard Digs into Hunger
May 25, 2017
MEDIA RELEASE

MOOSE JAW, SK - The Mosaic Community Food Farm committee and supporters broke ground for the third year on a collaborative food security project in Moose Jaw this morning.
The project, funded largely by The Mosaic Company, consists of a three acre farm plot located in Churchill Park in Wakamow Valley. The farm will have three full-time staff for the summer and will grow fresh produce that will be shared with the Moose Jaw and District Food Bank, Hunger in Moose Jaw and Riverside Mission. These local food security agencies struggle to receive and distribute fresh vegetables to the vulnerable populations they serve.
The intent of the garden is to not only to provide produce to food security agencies but bring a sense of collective community through volunteer opportunities to connect and assist with those who are feeling the pressure of food prices. "Partnering with Wakamow Valley Authority and our food security partners on the Food Farm is one of the ways Mosaic tries to tackle the complex issue of hunger," said Celeste Geisbauer, Senior Community Investment Specialist from the Mosaic Company. "At Mosaic, our mission is to help the world grow the food it needs, and this plan starts here at home. We are very proud to be part of this collaborative food security initiative."
The Mosaic Community Food Farm/Orchard's secondary goal is to encourage growing and food production education. "Those who participate at the Food Farm not only learn how each crop grows but also how to incorporate it into their diet as they work alongside other volunteers and staff," says Donna Little, chair of the Mosaic Community Food Farm/Orchard. The Mosaic Community Food Farm/Orchard brings back our connection with the land and what growing your own food provides for the community of Moose Jaw. Staff and volunteers were on site planting a selection of vegetables in the freshly worked soil Thursday. The planting is expected to be completed by next Saturday.
Last year a grant from CN EcoConnexions through Tree Canada's Edible Trees program, provided funding to complement the existing vegetable production. Margaret Moran, CEO of Wakamow Valley adds, "Like the trees, the project is long term, "Wakamow Valley is a place for everyone. We are proud to be the home of an innovative and much needed project that has the possibility of changing lives today and for generations to come."
Members of the Mosaic Community Food Farm/Orchard committee and staff encourage volunteers or those who would like to support the project with in-kind donations of tools, seeds, or plants to visit their Facebook page or email mosaicfoodfarm@gmail.com.
-- 30 --
Contacts:
Margaret Moran
CEO, Wakamow Valley Authority
306.692.2717
Mosaicfoodfarm@gmail.com
Andrea Baker
Sr. Community Investment Specialist, Mosaic
andrea.baker@mosaicco.com
Taken from media release: May 25, 2017 From: Wakamow Valley Authority