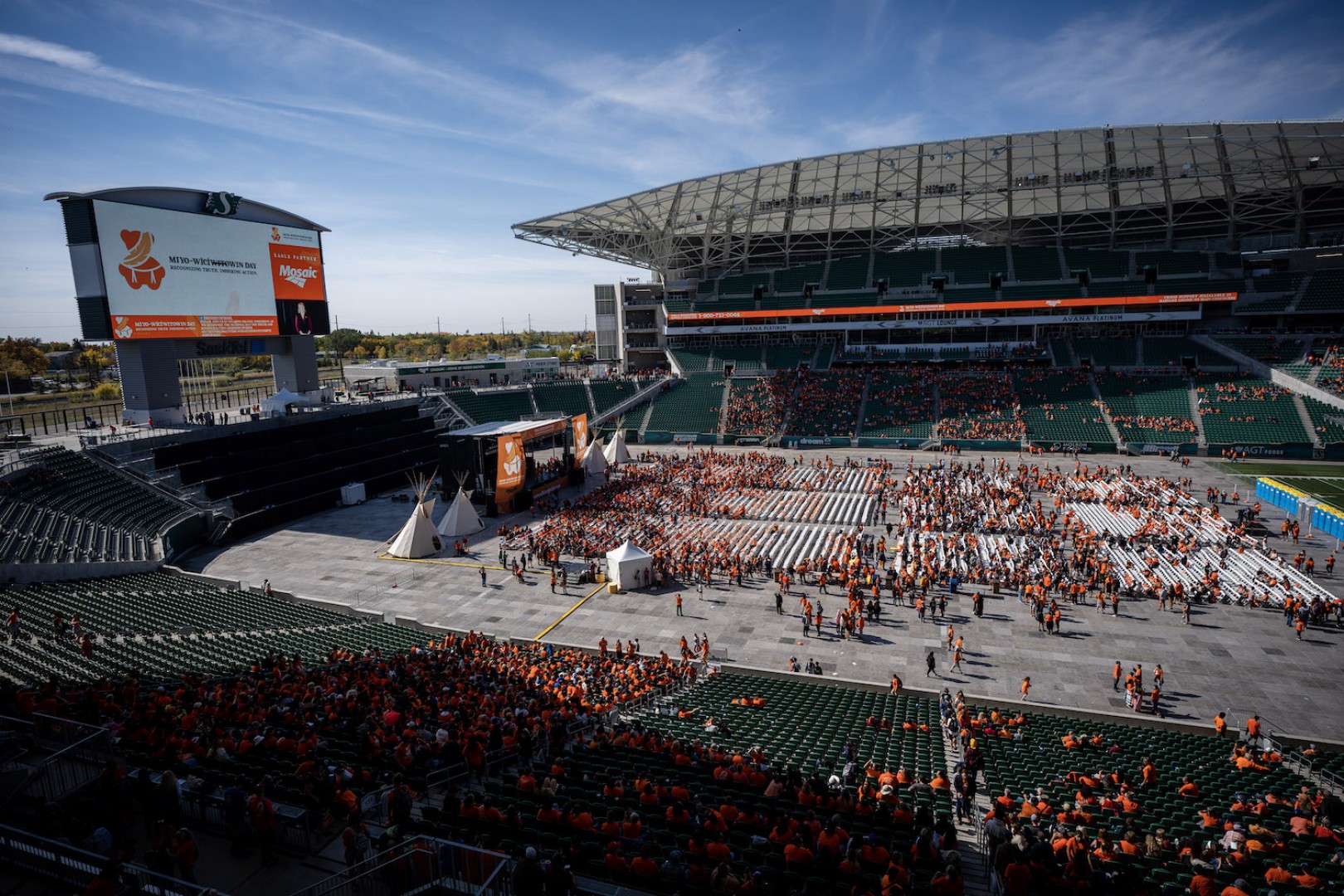 Thousands Gather at Mosaic Stadium for Truth and Reconciliation Day Event
October 11, 2022
On September 29, more than 12,000 people gathered at Mosaic Stadium for a free Truth and Reconciliation Day event, Miyo-wîcîwitowin Day.
Miyo-wîcîwitowin means 'reconciliation' in Cree. Walking together in a good way is how it is often described. The goal of the event was to bring high school students, business leaders, residential school survivors, and the general public together to learn about Truth and Reconciliation.
Prior to the event, Chief Cadmus Delorme, Cowessess First Nation & Co-chair of Miyo-wîcîwitowin Day, said: "On Treaty Four territory land we all share, we will gather, learn, better understand, and walk away with actions to implement the Truth and Reconciliation Calls to Action. Also, survivors of Residential School will be with us and this is a time to show how better change is coming to help in healing and empowering them and their kinship."
Mosaic was proud to partner with Miyo-wîcîwitowin Day as an Eagle (Presenting) Sponsor. Because of Mosaic and the sponsors of the event, tickets were made available at no charge.
"Together, we must do more than just talk about reconciliation" said Bruce Bodine, Senior Vice President, North America. "We continue to learn and practice reconciliation through everyday business engagement, community involvement and employment. We believe an important part of reconciliation also involves the business community."
The team leading the Truth and Reconciliation gathering at Mosaic Stadium wants to assure the impact of the day is to uplift the ones who attended Residential Schools. To honour Residential School Survivors, aged 65 and over, will be offered the opportunity to attend the event in the quiet, safe, indoor space in the Alumni Lounge at the stadium and outdoor on the Champions Deck. Support people are also welcome. 
The Truth and Reconciliation Commission (TRC) defined reconciliation as the process of "establishing and maintaining a mutually respectful relationship between Aboriginal and non-Aboriginal people in Canada." They also said that for reconciliation to happen in Canada, "there has to be awareness of the past, an acknowledgment of the harm that has been inflicted, atonement for the causes and action to change behavior."
Attendees of the event did not leave empty handed. Mosaic along with Regina Exhibition Association Limited (REAL) provided 'Every Child Matters' pins and pledge cards. The cards were given with the intent for attendees to take action on reconciliation, which is exactly what the TRC envisions.
We cannot change the past but together through this day, and events like Miyo-wîcîwitowin Day, we can learn in the present and write a future for everyone that tells a story of healing, togetherness, and moving toward a better outcome for all. 
For more information, please visit www.wewalktogether.ca