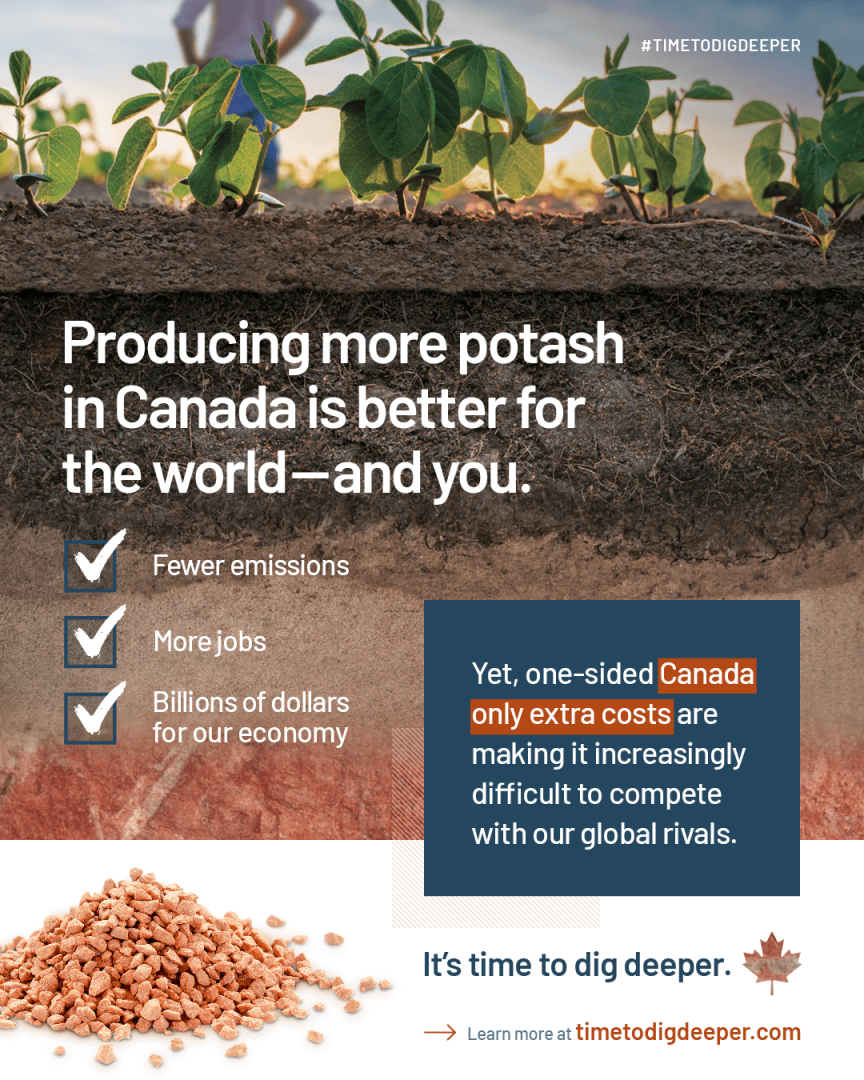 Time to Dig Deeper for the Canadian Potash Industry
July 23, 2020
Canada is not on top of the potash pile anymore
Since this "pink gold" was first found in the 1940s beneath Canadian soils to the opening of Canada's first potash mines in the 1960s, the potash industry grew and expanded to become the largest in the world until recently.
Today, producers mining the plentiful mineral under the prairie soils of Saskatchewan are watching Eastern European mining companies expand and advance their potash production and sales. With the largest reserves in the world under their work boots, Russia holds about 34% of potential potash opportunity while Canada sits at about 21%.
Potash is a commodity. It is an interchangeable good used as an input (fertilizer) to make other goods (food). It is bought and sold at the lowest cost wherever it is most readily available. The selling price is determined by many factors, it mostly depends on supply and demand and is set by the market.
While potash producers have little control over the sale price, the cost to make a tonne of potash is the differentiator.
Selling a tonne of potash
Labor, materials, shipping, taxes, power and utilities are ordinary expenses across the board; however, recently, companies mining Canadian potash are seeing one-sided Canada-only added costs challenging their competitiveness.
"Increasing costs and regulatory structures are significantly impacting our ability to compete on the global stage. Potash is a global industry with a huge national and local positive impact," adds Bodine.
Canadian potash is laden with the highest royalties and production taxes in the world. It is estimated Russian producers pay 43% less taxes on operating earnings than a company mining Canadian potash, and these burdens are starting to influence business decisions.
For the first time in a decade, the annual Fraser Institute's survey of attractive places for mining saw no Canadian provinces or territories make the top ten. Previous to the 2019 study, four jurisdictions consistently led the way.
"Companies looking to build mines and invest, evaluate all geographies and options. Potash mining takes massive capital dollars, and choosing where to invest is a long-term decision," states Bodine.
Keeping and attracting large companies in Canada makes for a healthy, thriving economy. Keeping potash moving from a kilometer underground to around the world is big business.
While the world needs potash, where it comes from is not the concern of global customers
Right now, producers outside of Canada can get their product into North America for significantly less than it costs to move Canadian potash by rail to the neighboring farmers just south of us in the United States. Rail service reliability is another problem exporters meet when trying to move Canadian-made products economically.
"With 95% of Canada's potash heading out of the country for export, the ability to get customers the products they are asking for when they need them is crucial and has a great impact on overall cost," explains Bodine.
The location of Canada's landlocked potash reserves adds to the complexity of keeping costs down. The global competition sees lower costs on labor and capital. They receive another advantage from their devalued currencies as the global price for potash is set in U.S. dollars.
Producing more potash in Canada is better for the world and our economy
A 2020 study conducted by ChemInfo found Canadian potash is made with ~70% fewer greenhouse gas emissions than product produced outside our borders.
"As local producers diligently work to become more sustainable, a concept deeply embedded into the character and mission of all Canadian potash producers, without parallel environmental standards, non-Canadian potash is outputting substantially more emissions," says Bodine.
"There is no 'sustainability premium' added to Canadian potash nor an incentive offered to the companies who act responsibly," he adds.
For every job in the mining industry, at least two more are created in the supply and service sector. Producers here pay employees well above minimum wage, offer top benefits, invest in their people, communities and business while focusing on minimizing their environmental footprint.
Mining is one of Canada's safest industries and contributes over $1 billion in wages and $5.52 billion to our GDP. Figures like this are a reminder of the broad and powerful influence mining has in our nation.
An uncertain world is depending on a 'certain' industry to keep moving
As the Canadian economy feels the deep effects of the ongoing COVID-19 pandemic, critical industries carefully forge on. With increased safety precautions and preparedness, the mining and fertilizer industry kept safely working, producing crop nutrients, like potash, needed by farmers around the world to keep our global food supply chain viable.
While many other industries face immense challenges to bounce back – now is the time to reflect on the importance and future-stability of this vital industry. Budgets, growth plans and families are counting on potash to be here for the long-term. We need to work together to grow this industry and make Canada's economy stronger for all of us.
It is time to dig deeper for our home-grown potash industry
"Deliberate and immediate action is needed to ensure Canada's potash industry moves back to the top position in production and exports by improving our overall ability to compete," says Bruce.
The world is hungry, and farmers will continue to grow food to feed it. Potash and other fertilizers improve crop yield and soil health exponentially. That is why the fundamental story behind fertilizer is an enduring winning proposition.
Do we care where the fertilizer to grow the food the world needs comes from and how carefully and sustainably it is made? Canadians need to dig deep and decide: are we ready to get back on top of the potash pile?
Join the conversation and get all the facts by visiting timetodigdeeper.com.
Bruce Bodine is Mosaic's Senior Vice President – North America, leading the company's potash and phosphate businesses, mainly concentrated in Canada and the U.S. Bodine has spent time living and leading on both sides of the border. Mosaic and its predecessor companies have a 50+ year operating history in the potash industry in Saskatchewan, Canada.